"

Franck L. Goldwasser is a blues original. A story teller and musician of wondrous magnitude who has lived the blues with a remarkable burning intensity of realism and insight. His life in the blues is one of sheer honesty and dedication to the past many who have played in the clubs and bars of deep Oakland nights from time immemorial. He was born to play the blues, there is no other way to say it."
— Tom Mazzolini, San Francisco Blues Festival founder and producer, and host of "Blues By The Bay" on KPFA -FM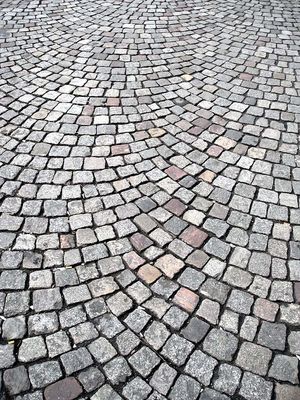 Formerly known in international blues circles as "Paris Slim", Franck Goldwasser was born in Paris in 1960 and studied fine arts before moving to Oakland, California in 1983. A self-taught guitarist and vocalist, Goldwasser began studying the recordings of Elmore James, B.B. King and T-Bone Walker at age 16. Having played in public for the first time with Paris-based harmonica player Sugar Blue, Franck sits in as often as possible with visiting American bluesmen such as George Smith, Jimmy Dawkins and Phillip Walker. Hired as second guitarist with California bluesman Sonny Rhodes at gigs in Paris and Reims in 1980, Goldwasser develops a friendship with the "Sultan of the blues" and plans to relocate to California. During a three-month stay in Oakland, California in 1981, Goldwasser meets and jams with Big Mama Thornton, Frankie Lee, Buddy Ace, Troyce Key, J.J. Malone, Cool Papa and Mark Hummel while documenting the Bay Area blues scene for the music magazine Soul Bag. Back in Paris, the budding bluesman begins to front his own band, the Blues Blasters. Returning to Oakland in June 1983, Franck Goldwasser wastes no time in immersing himself in the vibrant East Bay blues scene, quickly landing a job in singer-guitarist-club owner Troyce Key's band. While gigging every weekend at the famed Eli Mile High club, the Frenchman hones his skills alongside West Coast blues giants Percy Mayfield, Lowell Fulson and Jimmy McCracklin.  Recognizing in Goldwasser "The closest thing I've ever heard to the Thing" (a reference to his longtime guitarist, blues guitar  innovator Lafayette "Thing" Thomas),  McCracklin hires him to be his axeman and musical director.  While occupying that chair for the following three years, Goldwasser free-lances with some of the area's most illustrious blues luminaries including  Omar Shariff (formerly known as Dave Alexander), Johnny Heartsman, Ron Thompson and Elvin Bishop. 
Having formed his own band, Goldwasser eventually takes over the houseband gig at Eli Mile Hi Club when Key decides to take a one-year hiatus from performing. Paris Slim (Key gave him the moniker) releases his first record on San Francisco's Backtrack label in 1985, a 45rpm featuring a driving rendition of Lowell Fulson's "Guitar Shuffle" (upon the hearing of which Fulson simply commented: "I'll be damned!") and appears at the San Francisco Blues festival that same year.  Write-ups in the local music press follow, including feature stories in the East Bay Express and the San Francisco Chronicle.  At a show at San Francisco's Victoria theater, Goldwasser's band backs up singer Dottie Ivory and California blues architect Pee Wee Crayton on his very last San Francisco performance. During 1986-89 Goldwasser occupies the chair of guitarist and musical director in Jimmy McCracklin's band, before releasing his first album on Belgium's Blue Sting label. Featuring a stellar cast of some of the Bay Area's top sidemen, including future Robert Cray band members Jim Pugh, Karl Sevareid and Tim Kaihatsu, Etta James keyboardist Dave Matthews, guitarist Bobby "Mr. Goodfingers" Murray, Little Charlie and the Nightcats' Rick Estrin, Commander Cody's drummer Lance Dickerson and alto sax legend Earl "Good Rockin'" Brown, "Blues For Esther" is nominated for a W.C. Handy award in the "Best Album of the Year" category in 1989. 
When Tim Kaihatsu leaves his regular gig hosting the Blue Monday Party at Berkeley's favorite nightspot Larry Blake's to join the Robert Cray Band, he calls on Goldwasser to take over the guitar chair alongside harmonica player Mark Hummel. As part of the Blake's houseband, Goldwasser works with a who's who of the Bay Area notables, including Linda Tillery, Luther Tucker, Tracy Nelson, Norton Buffalo and Charlie Musselwhite. 
Stints with Musselwhite as well as Bay Area favorites Gary Smith, Nick Gravenites, Johnny Nitro, Mitch Woods and Terry Hank follow. A sought-after sideman for visiting artists, Paris Slim provides guitar work for A.C. Reed, Jerry McCain, James Harman, Sunnyland Slim and Big Jack Johnson. In September 1989, Goldwasser is invited by original member and co-founder Nick Gravenites to fill-in for Michael Bloomfield in an historical reunion of the Electric Flag; featuring original members Barry Goldberg on organ, Harvey Brooks on bass, Jerry Garcia alumni Merle Saunders on piano and Blues Project drummer Roy Blumenfeld, the band appears at a 20th anniversary celebration of the Woodstock festival at Lancaster, California. 
A second solo album, "Bleedin' Heart", released in 1996 on the San Francisco-based Globe record label, is co-produced with Joe Louis Walker and features both Walker and Sonny Rhodes making cameo appearances. For the Mountain Top production company, Paris slim produces several albums by Fillmore Slim and appears in instructional DVDs by harmonica masters Mark Hummel and Gary Smith. A collaboration with Smith, "Be Careful What You Wish For", is also released by Mountain Top. After a stint with San Francisco favorites the Dynatones, Franck Goldwasser relocates to the Los Angeles area in 1998. In southern California he appears regularly with the likes of Kim Wilson, Roy Gaines, Mitch Kashmar and Arthur Adams. Joining forces with drummer-producer Chris Millar, Franck appears on numerous releases by the Fedora record label, including albums by Hosea Leavey (brother of the legendary Calvin Leavey of "Cummins Prison Farm" fame), Harmonica Slim, Fillmore Slim, Jessie Thomas, Iceman Robinson, Tommy Bankhead and Chicago blues luminaries Byther Smith and Jimmy Dawkins. Goldwasser tours Europe in the early 2000's alongside Jimmy Dawkins, Clay Hammond, Homesick James, J.J. Malone and Big Jack Johnson. Back in California, the group Blisterstring is formed with Millar, and the album "The Highway Is Like A Woman" is released on Millar's own label Under Siege. Through his connection with Millar, Goldwasser meets the Bluestein Family's Evo, joining the group Bad Boys Zydeco for shows across central California. 
At the Ojai Bowlful of Blues festival in 2000, Franck "Paris Slim" Goldwasser backs-up the legendary Chicago singer-harmonica player Billy Boy Arnold and singer Finis Tasby. Los Angeles blues entrepreneur Rand Chortkoff, who is in attendance, takes notice and offers to record Goldwasser for his budding production company. The release of "Bluju" on the prestigious German label Crosscut follows in 2002; with cameo appearances by Phillip Walker, J.J. Malone and star Lebanese percussionist Souhail Kaspar (Sting, Kronos Quartet) the album earns praise from the press for simultaneously keeping a firm footing in the blues tradition while exploring uncharted territories. 
With long-time associates harp maestro R.J. Mischo and Chicago guitarist Steve Freund, the group Down Home Super Trio is formed, leading to an appearance on the Spring Blues Festival at Ecaussinnes, Belgium, promptly followed by a headliner spot at the Lucerne Blues festival in '04. The set, which features drummer Richard Innes as a replacement for Freund, as well as guitarists Billy Flynn and Alex Schultz is recorded and released by the Crosscut label as part of their "In The House" series. Back in California, Goldwasser joins forces with Santa Barbara guitar hero Alastair Greene for an independently-released CD, "Franck Goldwasser with the Alastair Greene Band" (a.k.a. "Balls-Deep Dad"). 
The association of Chortkoff and Goldwasser proves a productive one, as it leads to tours with Billy Boy Arnold and Chicago blues guitar legend Jody Williams and a performance at Portland's Waterfront Blues Festival, while ultimately providing the catalyst for the creation of the Delta Groove record label and the formation of The Mannish Boys. With the initial lineup of singer Finis Tasby and harmonica player-singer Johnnie Dyer, guitarists Kirk Fletcher and Franck Goldwasser, pianist Leon Blue, drummer Richard Innes and bass player Ronnie James (singers Bobby Jones and Sugar Ray Rayford, guitarist Kid Ramos, bassist Willie Jay Campbell and drummer Jimi Bott were eventually recruited), the Mannish Boys make an immediate impact on the international blues scene, appearing at festivals and concerts in the U.S., Europe, Lebanon, Mexico and Brazil. 
2005 saw Franck Goldwasser moving to Portland, Oregon. Embraced by the Rose City's enthusiastic and supportive blues community, Franck is honored with a ten-page feature story in the Cascade Blues Association's Blues Notes, written by president Greg Johnson. Stints with the Paul Delay Band, Bill Rhoades and the Party Kings, D.K. Stewart, Jim Wallace's band (featuring fellow Mannish Boys Jimi Bott on drums) and Lloyd Jones follow. Appearing regularly at the Waterfront Blues festival, Goldwasser is invited for impromptu sessions with harmonica legend James Cotton and the Paladin's Dave Gonzales.  A collaboration with Oregon favorites Big Monte Amundsen, Henry Cooper and drummer Boyd Small engenders The Sultans of Slide; the group appears at the Waterfront Blues festival after the release of the album "Lightnin' Strikes" and a European tour follows in 2011. While in the Netherlands, Paris Slim cuts an album produced by Boyd Small for the Dutch Continental Records label , "Can't Raise Me", which features Amundsen and Cooper, as well as the Blasters' Gene Taylor. 
Session work finds Goldwasser appearing on several Delta Groove releases including albums by vocalists Bobby Jones and Sugar Ray Rayford. While on the Legendary Blues Cruise with the Mannish Boys in 2010, Franck is invited by Joe Louis Walker to guest on his "Live On The Legendary Blues Cruise" album alongside Nick Moss and Jason Ricci. 
As guitarist in the Curtis Salgado band, Goldwasser tours extensively the U.S. and Canada during 2011-2012. In 2012, the Mannish Boys are awarded "Band of the Year" by the Blues Music Foundation in Memphis. Featured as lead guitarist on the track "Strung Out", Goldwasser is rewarded a second time the same year as Salgado wins the "Album of the Year" award for his 2012 Alligator Records release "Soul Shot". 
2012 saw Goldwasser returning to southern California. Having taken a one-year hiatus from music during 2013-14, Franck returns to Portland and forms the T-Bone Walker tribute band The Bonepickers, which appears at the Waterfront Blues Festival and releases one CD, "Bone Pickin'" in 2015. 
Back in California, Franck plays locally and on the road with Ventura-based Hot Roux and long-time associate R.J. Mischo. Goldwasser tours France, Belgium, Germany and Denmark in 2013; a double bill with the Red Devils' Big Pete finds him at the Moulin Blues Festival (Netherlands) in 2016.  Back in the studio in Ventura, Franck L. Goldwasser completes the recording of a new CD due out in September 2018, "Bigger Than A Millionaire".
After a six-month hiatus from performing, Franck L. Goldwasser is back in the recording studio in June 2019, joinining forces with rising star producer Christoffer "Kid" Andersen for the recording of a new album, "Sweet Little Black Spider", due out in December.  A double-disc set, the album consists of new, original compositions exclusively, including the politically-oriented "Tyranny Is Rising", as well as several autobiographically-based  spoken word works. 
"

I've known a whole LOT of musicians in my life and I can honestly say I've never met one more honestly and EMOTIONALLY DEDICATED to the blues than Frank Goldwasser. His whole heart is into the truth of blues. I ain't lyin'!" - Charlie Musselwhite